Thank you for contacting Extreme Roofing, a representative will contact you shortly.
Residential Applications
Long Lasting, Virtually Maintenance-Free
Give your home the exceptional durability and maintenance-free advantages of metal, with our residential line of quality roofing products. Unlike common shingles, our advanced residential metal roofing and wall systems do not warp, split or crack, and are impervious to mildew, rot, termites and pests.
When properly installed, residential metal roofing and metal siding will withstand severe weather - including high winds, hail, snow and rain - better than any other roofing material. Best of all, the non-combustible performance of our technology offers peace of mind, as well as improved fire ratings that can significantly reduce homeowner's insurance premiums.
Performance Benefits
Highly Durable
Weather Resistant
Virtually Maintenance-Free
Long Lasting Color
Energy Efficient
Design Options
Choice of Color
Choice of Profile (Shape)
Choice of Gauge (Thickness)
Choice of Finish
Specialty Materials (Copper, Marblique)
ENERGY STAR Listed Colors
LEED Contributing Colors
Save Even More With Metal Sales Cool Roof Technology
A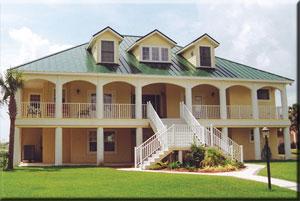 nyone can talk sustainability, but Metal Sales continues to lead the way with the industrys largest reformulation of highly reflective paint technology. The result is more than 100 ENERGY STAR and LEED compliant colors for Metal Sales line of energy-efficient Cool Roof systems.

Durable, attractive and easy-to-install, these Cool Roof systems come in a wide range of profiles that can lower energy consumption and significantly reduce utility bills.

Each reformulated Cool Roof color meets or exceeds ENERGY STAR and LEED compliance specifications, qualifying for current Government Tax Credits. An impressive 45 year paint warranty ensures your roof will perform beautifully, decade after decade. As an added feature, all of Metal Sales standard colors are 100% Lead Free.

Metal Sales offers the industrys most durable and artistically diverse selections of Residential Metal Roofing Panels and Metal Wall Panels for:
Single Family Homes
Garages
Condominiums
Sheds
Multi-Family Residences
Free-Standing Structures
Go Back